August 2011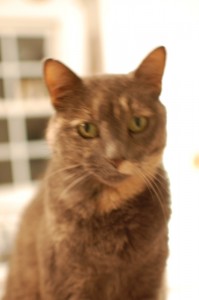 May 2011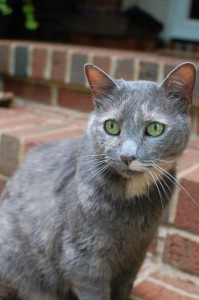 April 2011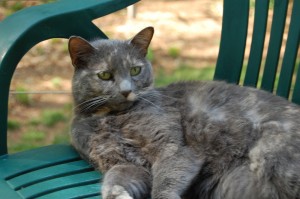 November 2010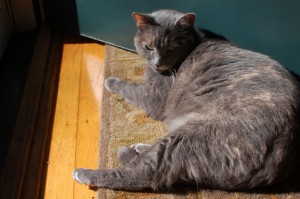 November 2009
September 2008
Adah

By mid-summer 2007 Adah is pretty much back to normal.
1 Mar 2007 – Adah is slowly going down hill I think. Sometimes she is fine but her course seems to echo that of Fluffy, who eventually had to be put to sleep as his seizures were so bad that he was hurting himself, anyone who tried to help him and anything in the vicinity. Adah is not that bad yet but unless she is put in a dark quiet space, she goes crazy and bites at her paws and her tail. The best place for her seems to be to let her crawl under the covers in the bed and be warm, confined, womb-ey. Then she rests quietly.
09 Feb 2007 – Adah seems better today. Donita took the urine sample by the vet's office. It checked ok. There was some discussion of hyperethesia.
08 Feb 2007 – Adah has come home. But she is still not right. Apparently she did not go while at the doctors and the doctor needs a urine sample. Two minutes at home and my wife says, she's going to go… I need to make a catch. She got it and poured it into a bottle. Back to the vet tomorrow.
07 Feb 2007 – Adah has taken ill. Monday she used the litter box often. Tuesday she saw the doctor. The medication did not agree with her. She tore around and jumped at things. I was not feeling well, skipped supper, and went to bed early. When Adah came to bed, she burrowed down under the covers and stayed there all night.
30 Jan 2007 – Adah has taken to jumping from the island to the counter in the style of Tabby. While Tabby weighs 5 pounds more, she has more grace and style. Plus Tabby gives more warning. Adah slides after she lands, crashing the dishes and startling the Mrs.
11 September 2006 – Adah was really wanting pats this weekend. Everywhere I went, I saw her looking up at me. I would give her a pat if my hands were free. When I had time, I would sit on the ground and let her rub her head against me. She flaps her tail so furiously when she is patted. Almost like a dog.
4 September 2006 – Adah was so sweet today. It was a mostly gray, rainy day. I was sitting in a chair in the garage looking out the door working on some knots and she came and jumped in my lap for a pat or tow.
9 August 2006 – Adah often comes out to greet me when I get home from work. I turn of the engine and the radio and open the door. She hops up to get pats. Like all cats, she likes the back of her neck rubbed. Eventually I need to get out of the car. As soon as I get up she hops out and I can close the door.
31 July 2006 – Aday has been sleeping outside every night while my wife is away. I had taken the notion that she was "my" cat. She is still thinks of my wife as her momma even though she is now about 5 years old.
11 June 2006 – Adah was missing for a while today. She had not been seen since before lunch. That is unusual. It is also unusual for her to be late for supper (17:30). She eventually showed up around 18:30.