My brother in Muncie Indiana has completed participation in a project at the Muncie Childrens Museum.   For the last year he has been a "consultant/ finish carpenter" for a Ball State Architecture design- build class(es) project. The Tot Spot child activity area for children ages 0-5 was conceived, designed, and constructed by students under the guidance of architecture professor Pamela Harwood. For David, it has been both challenging and rewarding working with the students as they designed, modified and finally built each of the 6 areas. Each area has an inspirational book,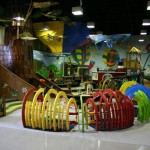 The Giving Tree, The Very Hungry Caterpillar, Scuffy the Tug Boat, Oh the Places You'll Go, Jack and the Bean Stalk, and Old McDonald as a theme. There were over 57 students involved in making it over 2 semesters and both summer sessions. Now that it is open the kids seem to love it.
Thanks to the generous donations and support of the following organizations and foundations, this project was made a reality for the Muncie Children's Museum: The Boren Foundation, Inc., George and Frances Ball Foundation, The Community Foundation of Muncie and Delaware County, Inc. and Robert A. and Beverly D. Terhune Fund.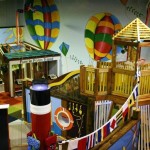 In other news, David found out Monday that he has been designated an "Indiana Artisan". Selection of Indiana Artisans is a juried process. You can go to www.indianaartisan.org to learn more about it.
You can see more of David Calvin's work at his own website, Whimwood.net.