I recently completed a model of an Optimist Pram in 1 inch=1 foot scale. It seems that as with many projects, the preparation takes longer than the project. I found plans. First I used the lumber inventory to rummage through my pre-cut wood. Not all of the required pieces were available so I cut the rest by hand. Next, the building frame.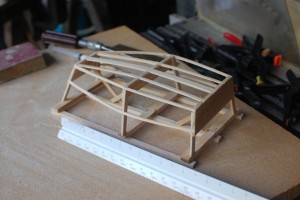 . Setting up the actual boat frames was complicated. If you were doing it full size, you could use a tape measure and level or plumb-bob. As it was getting the measurements set up in the middle-of-thin-air took some clever clamp-measure-move-reclamp action to get it just right over several days as I had to wait for the glue to dry to do the next frame. I think that the center bulkhead is 1/16″ off-square which would be 1/2″ in full size.
Once the frames were set up, the corners were notched and the chines and keels were set in. A little sanding to shape.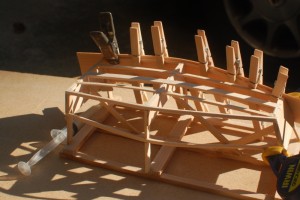 Next the sides were put on as rectangles then trimmed with a coping saw and sanded with 60-grit to fit. and finally the bottom.
The rudder and centerboard were next along with the mast, boom, and sprit. Finish is varnish.
The sail was laid out with a program named Sailcut. It neatly lays out panels perpendicular to the leech givin a very realistic appearance to the modeled sail. The "eyelets" are dots of gold sparkle-pen ink.