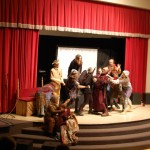 I have just returned from Asheville, NC where I saw a most amazing play. PLUTO V. ERIS. A play to celebrate the 400th Anniversary of the publication of Galileo's The Starry Messenger.
Full disclosure, I probably would not have heard about this play if my daughter did not play a part.
A classic play in the sense that it's form and presentation model a Greek classic play. Or perhaps a modern civil trial.
A number of gods and goddesses from myth and legend are gathered for a Council of Celestial Beings. Eris, goddess of Discord, is accused by Pluto, god of the Underworld, of treason and general mayhem. Testimony proceeds through dialog and deposition. The costumes of the gods and goddess are outstanding from the Polynesian and Hawaiian god and goddess that open the show to the giant planet giants that join in the testimony. The cut paper figures in the shadow puppet deposition video are worth the visit in themselves. Classic shapes. Classic themes. Great action.
As the play unfolds, the interaction of myth and earth reality are explored. In the end, there are choices to be made.
The Vance Elementary School in Asheville Planetorium is the near-perfect performance space for this play. The semi-circular stadium is reminiscent of the Greek and Roman theaters of ancient times. More so because the ceiling of the Planetorium is hung with models of the planets with Earth the size of a basketball and the others to match.
Just one more performance in this round on the March 27, 2010 at 8:00 PM. A great show and worth the trip. A website for more info. Contributions benefit the Vance Elementary NASA program. A website for more info. Contributions benefit the Vance Elementary NASA program.