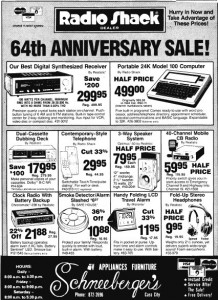 The other night, my wife went to shut the Player off. And it would not go off. The push-on-push-off switch that has served faithfully for 25 years was stuck. She got it off by unplugging it. When I plugged it back in the next day, it did not seem to come on.
The Player is Radio Shack ™ Realistic ™ STA-2500 Digital Synthesized AM/FM Stereo Receiver. The advantage of this particular device is the variety of stuff and internal switching that it has. Enough connections for dual cassette tape, 6-channel mixer, Karoke center-channel suppression, phono turntable, CD player, computer audio feed, upstairs and downstairs speakers. It's in there. All media, all the time. When the Player is down, it is…well, quiet.
I recorded a diagram of the colors and connections of the cables to all of the above then pulled the plugs.
I found the circuit diagram with the other documents. They were too small to read. I scanned them and blew them up to 4 times the size.
I then took off he covers. This thing is like an onion. 4 screws for the particle-board walnut-look end panels. 3 screws for the back edge of the top cover. 6 more screws for the aluminum front panel. 6 snap clips release the front panel lable layer. Then I can get to the 2 screws for the power switch. I get the switch assembly out. I cycle it a couple of times. I plug in the power cord being careful not to touch anything electric. Get radio over the headphones. Switch on. Switch off. Put it all back together. Don't you just hate when you didn't do anything but now it works.