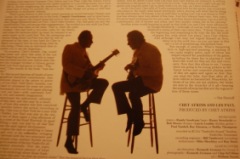 When I was in High School, my older brother played guitar and listened to records of guitar players. He especially liked a 45 by Les Paul and Mary Ford – How High The Moon. He played it as the signature song for his pretend radio show.
Les Paul, invented more stuff for musical performance and recording than most people have items in their kitchen.
Les Paul, always the accent, the spark, the zing.
Les Paul, now missed.