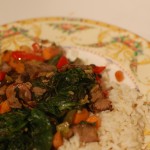 Quite a few years ago, my late mother got a Sunbeam Electric Frying Pan. For some reason, I was at home from school (snowday? holiday?) and watching the "Today" show. A lady who may have been Estelle Parsons or perhaps Lee Meriweather presented a recipe for Sukiyaki. I saw a chance for my mother to use her new fry pan. I took notes. I noted especially that the the last ingredient was fresh spinach. "Mom can you make this"? She did. This is what I remember from the recipe. You can compare.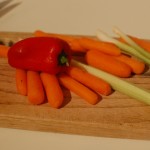 This is the recipe I recall, demo'ed by the Today show hostess. Set the fry pan to medium, a bit of vegetable oil, brown thin-sliced strips of beef. Set aside. Increase heat, brown carrot strips, celery, bamboo shoots (optional). Reset to medium. Add fresh spinach. Cover wait 3-4 minutes for spinach to cook. Serve with rice. Soy sauce.
Recently there was some left over steak strips and some bell peppers. The other night I made a sukiyaki-like dish as above, but no bamboo shoots using a conventional skillet over a gas stove. Pretty tasty. Should have used the whole bag of spinach though.