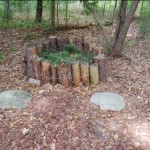 My wife likes to garden and in the hard clay soil, some things do better in a planter. Her idea was to arrange the logs in a circle, hold them together and fill it planter with potting mix. My son and I have made a number of them.
Cut a number of logs roughly stove length. If you like uniformity, use a gauge stick or a knotted rope as a measure. How many? About 3 1/2 times the planter diameter divided by the log diameter. For example say 3 feet across. Time 3 1/2 is 10 1/2 divided by 6 inches = 1/2 foot = 21 logs. Or in metric say 1 meter, times 3 1/2 = 3 divide by .15 = 23 logs. Cut the ends square so they will stand on end on the ground.
On previous planters, I used 16 guage galvanized wire. For this one, I used the soft iron wire used to tie reinforcing bars together for concrete. Find it near re-bar and concrete at Lowe's or Home Depot. Galvanized doesn't rust, in fact it stays shiny for years. I do not know yet how this darker wire will look or hold up but I suspect the darker color will be more aesthetic than shiny wire in a rustic planter.
If you choose the re-bar wire, you will need to draw it straight before you use it. Twist the end around something substantial, spool out enough to go around twice plus a bit more. In our example above about 15 feet (4 meters). Give a tug to take the kinks out. Do not cut the wire yet.
Arrange the logs in a circle where you want them to be. Put them as close together as they will stay.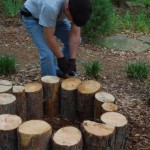 Wrap the wire around the logs two times keeping the wire close together and 1/2 to 2/3 up the sides of the logs.
Pull the wire hand tight cross and twist it a couple of turns to tie the ends together. Have enough outside the twist to grab. Now cut the wire at the spool.  Do any final arranging of the logs. Pull tension on the twist and begin to twist up the excess to pull and hold the planter together.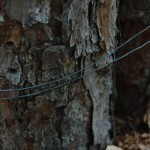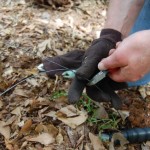 When the twist is about 2-3 inches (5 cm) from logs, stop twisting. This will be tight enough. And if you go to far, you risk breaking the wire.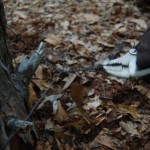 I twist by the hand-over-hand method or by grabbing the twist with a locking plier and twisting. Either way keep tension on the twist as you twist it to keep the ends leading smoothly into the twist.
When it is tight enough, cut the twist.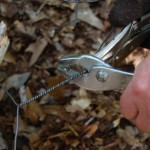 Then turn the end of the twist back on itself and close the hook.  Press the loop flat so it will not snag on anything.  The cut end is SHARP!.